Edit your website yourself and save a lot of time and money
by using our content management system
Fast editing of the content
With the help of our content management system you have two easy and fast options to edit the content of your webpage.

1. Content editing: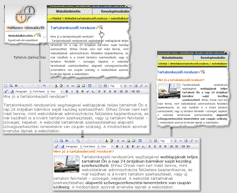 2. Content overwrite: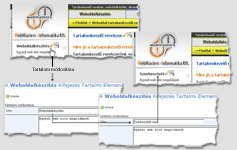 It is really worth reading this page!
Why is a content management system good for?
With the help of our proprietary and easy to use content management system you can edit the content of your website on your own at any time. All you need to do is log into the administrative surface of your website and right away you can start editing the desired content or you can add new content in text or pictures or whatever you want. Our content management system has been developed in such a way that all you need is to have some very basic Word skills to use it. Its no more difficult than writing a letter. Adjustments or modifications are activated immediately on the website.


Is it worth it? - It is and that's Guaranteed!
One of the huge advantages of our content management system is its cost-efficiency. The maintenance and refreshment of traditional, static websites generally requires the assistance of a specialist and/or the purchase of sofware, what is more the activation of the adjustments may take quite a while to get done. Utilizing our content management system you or your colleagues can immediately accomplish the majority of modifications without difficulty and without any HTML skills.


Why relevant?
Regular refreshment or update of webpages is important from several aspects. First it keeps your visitors informed of any new events and changes. Besides information that has been up on the site for a while can start to become stale. Moreover adding new information to your site can make it more attractive The other point is to get the attention of the search engines. One of the main criteria used in their algorithms is new content. A site that adds new information or edits existing text is viewed as dynamic and comes higher in the seraches. All the major search engines from Google to MSN and from Espotting to Yahoo all pay priority attention to regularly updated pages in their rankings.



How much can be saved? - A lot! Add it up...

The advantages of a content management system as compared to traditional webpages:

The content is online and immediately editable so the website can always be up to date. For that you need neither costly specialists, nor maintenance expenses nor the stessful waiting for someone to carry out the necessary adjustments or refreshments that you asked for days ago. In addition you need niether HTML skills or expensive software to do the modifications.
The fact that you can edit your site online and in real time means you can keep your clients and vistors informed of the latest developments
The sites are so easy to edit that anyone who can use a word document can do it.
You can also add photos, pictures, graphs, tables, posters, ads - in fact anything you want.
The websites we design and construct are built on our own developed content management system so they include the above mentioned properties.
The administrative surface of our content management system is accessible in English.

Commission us with the design and construction of your website or the refreshment of your already existent homepage or simply add our content management system. Click here and contact us! We are delighted to be at your disposal!