Our prices
Content manager - quick editing
With the assistance of our content manager program you can easily make changes to text, pictures graphics etc: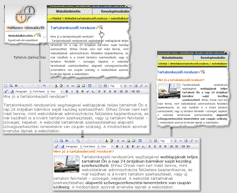 Our price list is a general guide rather than a fixed amount as each assignment often requires an individual solution. For a more concrete offer please contact us!

The websites we design and construct are built on our very own developed content management system. This means that each page on the website has its own administrative surface which facilitates much easier and very faster editing. This makes the website far more cost efficient while maintenance, refreshment and extension of the website is very simple. You will be able to make changes to your website with no more than a basic knowledge of MS Word. The websites we create pay for themselves vey much quicker than their static counterparts as their maintenance and refreshment demands considerably more time, expertise and softwares thus higher expenses. Our content management system contains all the necessary functions – e.g. built- in Word, picture and graphic editor – as a consequence you can make the changes yourselves and cut costs.

Click here and learn what this system can offer you »


| | |
| --- | --- |
| Maintain your own website | From £985 |
We build all websites on our Webmasters Basic Package which contains all the basic content management features. The Webmasters Basic Package presents you with a professional Website, that you can manage yourself. Webmasters Basic Package contains the following features:
There are more than a thousand of Website templates, that a customer may choose from, the chosen template will than be adapted to the individual wishes, up to 4 hours of a webdesigners time.
The customized website design, that the customer has approved of, will then be planted on our content management system.
The completion of the menus and the devlopment of the internal navigation system;
Up to 12 professionally formatted web pages, that the customer can manage. Webpage content will be formatted and uploaded by our designers in a creative style, that the customer has sent electronically, up to 2-3 pictures per page.
A contact form, that is able to send an e-mail automatically;
Registering a .com domain, and having an ownership for at least two years.
The first annual fee for 1 Start web hosting package (1000 MB storage, 25 e-mail adress)
The entire website is designed to be easy to find by the internet users, during the preperation of the site we keep in mind the aspects of good search engine optimization.
Beside the completed websites our customer, receive our content management system's Users Guide, that can be obtained when signed in in the content management system.
The customer also recieves a two hours of assistance in reviewing or answering any question concerning the completed website by email.
The website designed by Webmasters does not require any management, since basic changes can be made by anyone, with very basic Word skills.
Additional features listed below can be added anytime, even after the launch of the website, if you want it to be added.
Graphic design of webpages
Websitel Model:

In case of Templat Monster template: £30 - £99, depending on the selected scheme
In case of Dream Template and Boxed Art templates all templates cost £25 each

Tailoring the design to suit your website, adjustment to company profile, insertion of logo, colours, etc. and the HTML coding of the scheme cost from £145
Design of other graphic and flash elements charges: £30 per hour
Construction of a complete iindividual webdesign without the use of schemes charges: 20-30 hours = £600 - £900
Other graphic designs
Profile design:

Logo, business card, mail letter, envelope: £199 - £475

Logo design: £100 - £290 (from simple samples to complex 3D ones)
Business card design: £45 - £120
Profile handbook design: to be negotiated on individual demands
Webshop package
Webshop modules

From £685

Contains: modules of products, scopping cart, users, orders
Upload of test data, testing.
We are at your disposal in assisting with the development and setting products database as well as uploading products database, our fee: £30 per hour

---

Graphic works

From £290

Contains: elements of a simple website
Catalogue

From £495

The catalogue can contain optional elements like products, estates, accomodation facilities, etc. The catalogue can be retailored as a webshop.

The price demonstrated includes:

the product module;
the elements of a simple webpage.
Prices of our most favoured modules
News module:

£98

This price includes the installation of the module, its insertion onto website and webpages, and the development of pages necessary for the module (news archive page, news page,etc.)

---

Newsletter module:

£135

The modules support the management of any number of public and non-public lists;
The price includes – besides the upload of the module – its integration into the page, the development of the necessary pages (subscription and non subscription pages), the development and setting of 1 newsletter list, development of email schemes: subscribe, unsubscribe, activation) and the preparation of 1 newsletter- style scheme.

---

Photo album module:

£89

---

EU Billing module:

£45

installation, database development with default invoicing for Euro Zone

---

Correction of any program errors is FREE of charge.
For the refreshment of the modules we offer a one year of refreshment licence. Once the one-year period expires the system remains active save for the refreshment option. For further refreshment of the licence please contact us!
Development of individual, database- based programs

£30 per hour

We undertake web solutions that suit individual needs and also embark on constructing administrative surfaces as well as the extension of our content management system, primarily in PHP and MySQL environment. Our developers' rate is £30 per hour
Online marketing -

Online Marketing and Campaign Management - Read more here »
All prices quoted here are net and are subject to VAT.

If we have managed to arouse your interest, contact us and we will be glad to give you more information!Click here!